What is Relaxation Massage?
Relaxation massage is a blanket term for any sort of massage where the primary purpose is alleviation of stress and muscular tension. At Entropy Treatment Rooms, we don't do a 'one size fits all' treatment or a set routine, but instead work with you to plan a session based on your individual preferences and needs. We can incorporate techniques from Swedish massage, Deep Tissue massage, Trigger Point Therapy, Myofascial Release, Indian Head massage, Lymphatic Drainage massage and more depending on your requirements.
What happens during a session?
Sessions always begin with a brief chat about your specific goals for the session, and a quick assessment. New clients receive a longer consultation and a more detailed assessment in order for us to get to know you and your structure, and answer any questions you might have. After this, we will leave the room so that you can undress and get comfortable on the couch. The shape of the session will depend on what we agreed at the start, and could involve anything from joint mobilizations, deep work on knots and adhesion or gentle Swedish techniques to soothe and relax. Afterwards we will leave the room again for you to redress.
What should I wear?
Please wear what you feel comfortable in. Underwear or swimwear is usually best, as long as it's not too restrictive and allows access to most of your skin. You will be draped with a sheet at all times with only the area being worked on exposed.
How often can I come for sessions?
There is no standard length of time you need to wait between massages. Some people prefer to come once a week, others once a month and some clients will book a session as and when they feel the need for it. For those who prefer firmer massage it is advisable not to get more than two sessions a week at the most, as the body needs time to recover from deeper work.
When should I not get a massage?
Please reschedule your session if you have a fever, cold, flu or other contagious or infectious condition. If you have a condition such as high blood pressure, diabetes, osteoporosis, cancer, HIV or have had any recent surgery, please check with your doctor before booking an appointment. This list is by no means exhaustive, so if you're not sure, check with your doctor first! By thoroughly filling out the new client form and keeping us updated if anything changes, we will be able to advise you if you need to check with your healthcare practitioner before coming for treatment.
How should I prepare for a massage?
A cleansing shower or warm bath is a great way to prepare for a massage session if you can. Eat lightly beforehand and abstain from drinking alcohol or caffeine on the day of your treatment - these directly affect the nervous system, and can have unwelcome effects when combined with massage. Prepare with less make-up or hair products than usual - if you still have to be out and about after your treatment, you may find it helpful to bring some products with you in order to to touch up your make-up afterwards - massage can play havoc with mascara! Face wipes, hair ties, spray deodorant and other little essentials are available if you need to freshen up.
It's important to speak up at any time if you are uncomfortable during your treatment. Some people get sinus congestion when face-down in the massage cradle so please say if you need a tissue or a sip of water. Equally if the pressure, temperature, music or anything else is not quite right, please let us know and we'll be happy to adjust it for you.
What should I do after my massage session?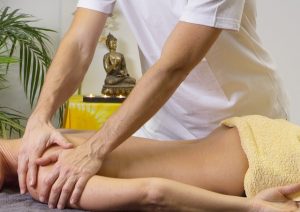 Some people can feel a little sore or achy in the 48 hours following a massage, particularly if the pressure was deep. We recommend a warm bath on the evening following a treatment, and some light stretching can be very beneficial as well. You may also want to refrain from vigorous exercise following your treatment, but paying attention to your body and how it feels is the most important thing.
Some people can experience dreams or emotions that are more intense than usual following a massage, this is common and you might find it helpful to record these in a journal if you keep one.
A massage is a wonderful pampering experience so try maintain the feeling for as long as possible. If you do need to go back to a hectic lifestyle straight away, try to at least have a short walk after your treatment, preferably in a park or other natural setting in order to ease yourself back into your day. Limerick has numerous green spaces for you to enjoy, the river side walk and UL area are only examples to consider.
Any more questions? Ready to book? Contact us now at info@entropytreatmentrooms.com 
Text or call:
086 178 7575